"Success is not final, failure is not fatal: it is the courage to continue that counts." ─ Winston Churchill

Whoever thought that blogging would be so difficult? Especially for someone who in the words of her husband, "never shuts up." I think I have figured out my problem. I have tried to come up with great thoughts for you. Most days those great thoughts seem to elude me. And then I realized that the blogs I like provide a glimpse into the daily lives of the writers whose books I read. Take a look at the blog that Erin Morgenstern, author of The Night Circus, writes and you will see what I mean.
I love hearing about their writing process. I love knowing that they have problems and challenges similar to my own. I love knowing that they often eat too many chocolate kisses and deeply regret it or not. Why? Because they give me hope that someday I can get where they are with my own writing.
"Use your own voice." This is the first tip given to wannabe bloggers. My own voice is usually having a one-sided argument with a cat as to why she is not getting more page time in my novel in progress or something like that. This is the reality of my writing life.
My last couple of weeks have been focused on getting MacCullough's Women on the shelf in libraries. One of my early blog posts was about how much the Rueben Hoar Library (a name I couldn't make up if I tried, with all apologies to Mr. Hoar) in Littleton MA meant to me when I was growing up. I still love libraries and always enter them with a sense of gleeful anticipation of herein lies a treasure.
February 23rd I participated in  "Local Author" night at the Nashua Public Library. This event provides area writers with a great way to meet the public and one another. It reminded me a lot of the science fairs that I participated in when I was in grade school. There were 28 authors representing genres from poetry to fantasy. It was fun to wander around and check out other writers' giveaways, posters and goodies. I shared a table with Gina Leuci whose romance novel is entitled A Lesson in Love and with Mary Johnson whose memoir, An Unquenchable Thirst, details her life as a Missionary of Charity working with Mother Teresa. Mary's book, which I borrowed from the library, kept me riveted last weekend. I had a great time and even sold two books.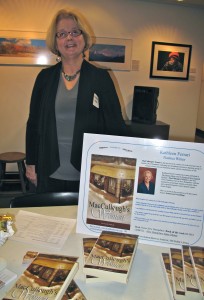 Last week, the Bedford (NH) Public Library accepted a copy of MacCullough's Women for the library collection. The book is already in the Amherst (NH) library where the staff has showcased it as a "staff pick".  I have also given it to the library here in Nashua.
For me, Bedford was a "hug yourself to make sure you're still real" moment. I never dreamed that someday my own book would be on the shelf there. When I first moved to Bedford in 1976, I would walk up Bedford Center Road to the yellow clapboard library pushing my daughter in her carriage. Later, I was a volunteer there under the Frances Wiggin and her staff. One of those lovely ladies was Betty Thatcher, an avid doll collector, who started me on the road to collecting dolls of my own. And that's how Franny MacCullough became a doll collector.
I love my characters and wanted people to read their story. I am happy to think of them as perched on the shelves in those three libraries waiting to be taken home and enjoyed.