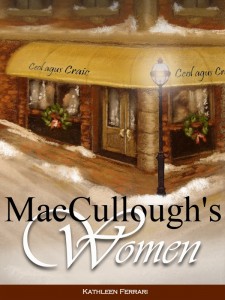 "How well do I really know my husband?"  When Drew MacCullough dies suddenly in a place he is not supposed to be, this is one of the questions that his widow, Franny, asks herself. In her search for answers, she enlists the help of Drew's oldest friend and attorney, Neil Malone who is caught between helping her find the answers to her questions while at the same time protecting the memory of his friend.
What makes MacCullough's Women especially intriguing is the surprising bond formed between Franny and Drew's Irish-born ex-wife, Brid Sheerin, who tells Franny at Drew's wake, "I know something about surviving Drew MacCullough." As the story unfolds against the background of an Irish bar, Franny is transformed from a girl living in the long shadow of her husband into a woman ready to fully embrace her life.
Now available as  both an ebook and paperback.