"In essence, a good sex scene is usually a dialogue scene with physical details." ―Diana Gabaldon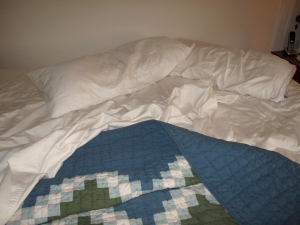 "I really liked your book," the reader told me. "I hope the next one has more sex in it."
The book she was referring to is McCullough's Women. There are two sex scenes in the book. One ends abruptly and the other plays itself out, as sex scenes do, across four pages employing all the required words: naked, suckle, nipple, tongue, climax…and more. The first time I read it aloud to my Writers' Group, which consisted of four women and two men, I had to sit in a chair with my back to them. And even then, my face was scarlet when I finished reading.
I have been a prolific reader since I was nine years old, sometimes reading as many as four books every week. I am often reading two books at the same time, picking up whichever one is closest to me. Over the course of my life, I have read across all genres. I can safely say that, starting with those first sneaked "dirty" books as a young teenager – which in hindsight weren't really that sexy – I have read a lot of sex scenes, some of which were more pornographic than "romantic" or "artistic". Reading them in the privacy of your bed or a secluded chair is one thing. Writing a sex scene for other people to read with your name attached to it, is quite another and not for the faint of heart.
My theory as a writer is that when it comes to sex, less is more. This explains why there is not a lot of sex in my books. I try to get the characters into bed when they really need to be there for the sake of the story. I am huge fan of Gone With the Wind. I consider it to be the great American novel. Margaret Mitchell believed in leaving things to the imagination. Here she writes the beginning of what remains one of the most romantic love scenes ever brought to the screen.
The following excerpt is taken from Gone With the Wind:
 "He swung her off her feet into his arms and started up the stairs…Somehow, her arms were around his neck and her lips trembling beneath his and they were going up, up into the darkness again…
 And after that, Mitchell leaves you, the reader, to imagine the rest.
We live in a world were every human act is documented and displayed for the world to see. You don't believe me? Check your Facebook newsfeed this morning. Sometimes it is hard as a writer to resist the urge to put in "more sex". Everyone does it after all, or if they are not doing it now, they most likely have. And readers certainly seem to want it.
There are two complete sex scenes in Francesca's Foundlings. And there are four couples in Maggie's Girls who would love to climb into bed together. I guess you will have to read the book to find out who makes it there. I suppose this must mean that my writing is getting steamier.
I have been told I do good job writing about sex. The problem is whenever I finish writing one of these scenes my first thought is, Thank God my mother is dead.