"Though there are torturers in the world, there are also musicians." – Michael Coady
It has been several months since I wrote on this blog, although not for the lack of trying. I have a number of the digital equivalent of crumpled wads of paper strewn about my office to prove it.
The state of the world on so many levels both at home and abroad has left me unable to move forward. Many, dare I say most of my fellow writers, have leaped to grab a banner and champion their cause whatever it may be. Sure, so very sure, of what is right, of what is true. I confess to envy them.
I am anything but sure. We are all constantly connected, aware at all times of what is happening in the world. Oddly this immediacy, rather than bringing people together, appears, at least to me, to divide us even more. Social media promotes a smallness and lack of civility that continues to astound me.
I spent most of the month of August in Ireland. The circumstances required that I curtail Internet usage and caused me to turn inward away from the constant clamor of the digital world. That "timeout" convinced me that my path back to writing is to seek out a way to stimulate my creativity and leave the noise of political protest and turmoil to others. At least for now until I am more sure.
Visiting the National Gallery of Ireland in Merrion Square West, I discovered a book called A Year in Art – A painting a day. Each morning, armed with my coffee, I open to the masterpiece of the day and study the image displayed there. Some works I recognize and others are new to me. Some I love and some I find myself thinking, Really? All have carried me away from the news of war, political strife, cruelty, horrendous weather and daily pettiness.
In addition to my "picture studies" as we called them so long ago when I attended Rose Hawthorne School in Concord, Massachusetts, I have returned once again to reading poetry. In Ireland, the land of Louis MacNeice, Patrick Kavanagh and William Butler Yeats, poetry is never hard to find.
No trip to Ireland for me would be complete without a visit to The Winding Stair bookshop on Ormond Quay. Named for the poem by William Butler Yeats, The Winding Stair is one of the oldest surviving independent bookstores in Dublin. I picked up a volume of poetry by Michael Coady, a contemporary Irish poet from Tipperary.
Summer has always been about reading for me, and this year proved to be no different. I powered through all thirteen of Louise Penny's Inspector Gamache mysteries, finishing number twelve only hours before the thirteenth, Glass Houses was released.
I read them not as a reader, although they are certainly most enjoyable, but rather as a writer studying carefully how Penny wove her cast of characters introduced in the first book, Still Life, through the subsequent twelve books in the series.
And at last we come to my own book, as yet unnamed, the third in a planned series of four. If you have been following this blog, you know there was a third book well on its way to completion. It even had a name – Maggie's Girls.
Reluctantly, I came to realize that as fond as I was of Maggie's Girls and of Maggie Kennedy the main character, the book didn't belong in the series. I hope to publish Maggie's Girls one day, but I owed it to the others to finish their stories.
Book Three picks up the characters first introduced in MacCullough's Women about two years after we left them at the end of Francesca's Foundlings sitting in La Boulangerie staring across the street at the wreckage of Coel agus Craic, the Irish bar where Brid Sheerin grew up. Most of your favorites will be there: Brid, Neil, Franny, Nick, Lilah, Rose Malone, and Sofia. As well as a couple of new characters, too.
When it will be finished and titled, I can't yet say. But my sharp turn away from the noise, confusion and sadness of this world has helped to move things along and allow me back into the heads and hearts of the folks in Lynton.
Finally, the Muse is well.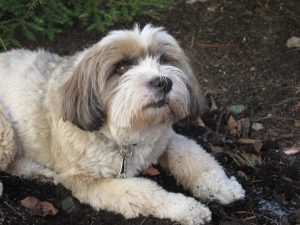 Arleigh will be four years old in December. Now where did that time go? She is, as my husband is quick to remind me, an ADULT dog now. Well sure, but she will always be my baby. Arleigh, like Thatch in Francesca's Foundlings, is a Tibetan Terrier. For her, this summer the living has been easy. She does occasionally open her eyes to make sure I am writing.
Do yourself a favor and listen to There Are Also Musicians. You will be glad that you did.