"Romance is everything." – Gertrude Stein
I am sitting here on Bailey Island, Maine writing this recommendation. Emails from friends at home tell me the temperature hit a hundred degrees today in New Hampshire. Here on the island, we have an ocean breeze and I would call it pleasant. I can see the hammock overlooking Mackerel Cove from my writing room window. It is only natural that the book I am recommending for you is set in a place called Beacon, Maine.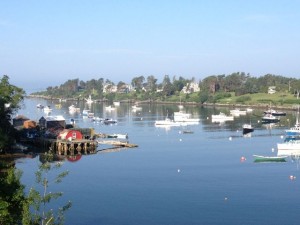 The Irresistible Blueberry Bakeshop & Café by Mary Simses is the perfect read for a hot summer day. Successful corporate lawyer, Ellen Branford, arrives in Beacon to fulfill a promise to her recently deceased grandmother. She is there to locate an old boyfriend of her grandmother, Chet Cummings, and deliver a letter as she had promised.
The Irresistible Blueberry Bakeshop & Café is Simses's debut novel and she follows the writing standard of making something happen early in the story, by having Ellen fall through the rotted boards of an old pier into the frigid Maine ocean waters in the first paragraph. She is saved from drowning by a sexy carpenter who leaps into the water to rescue her.
The story unfolds to reveal all is not as it first appears, not Ellen's grandmother, Ellen's savior, or Ellen, herself. To say too much more, would spoil it for you. It is fun to watch Ellen, now known as "The Swimmer" in Beacon, slowly shed her uptight Manhattan attorney outer skin and evolve into someone quite different from the young women who almost drowns in the first two pages.
The Irresistible Blueberry Bakeshop & Café is a fun novel. Mary Simses does a great job with her supporting cast including Ellen's fiancé, Hayden, her mother, and Roy, the man who rescues her. This is Maine at its best, right down to those blueberries. I hope you enjoy it.