"That's the trouble with living things. Don't last very long…And then just memories." – The Ocean at The End of The Lane – Neil Gaiman
 I would rather walk than run. I admit for a brief time the summer I turned twenty-seven I was a runner. The Complete Book of Running by Jim Fixx came out that year and spent time on the best -seller list. It would end up selling over a million copies. A lot of people took up running because of Jim Fixx. I was one of them. I figured out pretty quickly some of us are built to run, and the rest should walk. I'm definitely a walker. I still love to watch the runners. You always recognize who they are and that God made them to move like that.
I have been walking around this neighborhood for over twenty years almost always accompanied by a dog or two on my strolls. This summer things are different. Grace, the resident dog in our house, can no longer walk too far, although she is more than willing to try. The sight of the leash in my hand is still greeted happily as the signal for action.
She was eleven last January and is now officially an old dog. Life expectancy for English Cocker Spaniels is twelve. So… If she were a person, she definitely would have one of those shiny blue walkers with a basket and a seat. We meander very slowly down one block, cross to the next and then reverse our direction. She stumbles because of increasing problems with arthritis in her back but, being a dog and not a person, she gamely gets up and keeps on going. She often plops herself in a patch of tall cool green grass for a brief rest along the way. Back home, she stops to take a long drink before curling up in one of her numerous beds. I am convinced she smiles at me before she shuts her eyes as if to say, "Great walk, huh?"
I go back out alone. I admit at first I am a little sad and then the strangest thing happens. The Ghost Dogs show up – sometimes separately and sometimes together. As I head down Concord Street toward the park, it's always Halsey I sense first. Halsey is what is known as "typey" among dog people, meaning that he is an excellent example of the standard of his breed. He's an English Springer Spaniel and he bears a strong resemblance to his grandsire "Robert" who won Best in Show at Westminster in 1993. He is also comical, brave, and a dedicated chaser of tennis balls and squirrels, his greatest foe. Entering the park, he races ahead of me toward the tennis courts.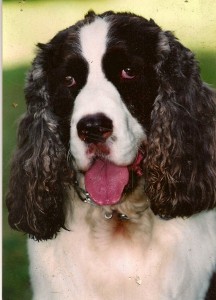 If I look closely in the shadows under the mulberry trees, I will see Teal slurping up the juicy berries on the ground. She is another beauty, her glossy coat, barrel chest and blocky head are hallmarks of the well-bred English Labrador Retriever. Her thick black tail waves an exuberant greeting. She loves to eat and it is only reluctantly that she follows Halsey and I down to the soccer field. I stop to watch them chase each other in games of dog tag and make-believe battles.
And then I look again and they are gone. Is it any wonder that I have chosen to let them live again in the pages of my books? I miss them so, and I am grateful to have their memories come join me on my walks through the park. Are there any ghost dogs in your life? If so, when do they show up?